University of Coimbra
The University of Coimbra is the oldest Portuguese university and for centuries the only university in Portugal - speaking about the history of the Portuguese University is, generally speaking, talking about the University of Coimbra.
The Palace of Schools, historic center par excellence of the University, holds a part of the whole that constitutes the University - here we perceive the traditions and mystique that makes it unique in the world. Inseparable from the city that hosts it, one feels the legacy of centuries, which projects itself in time, connecting the past and the future.
The College of Jesus is the oldest Jesuit College in the world, created here in 1542. It became the teaching space of sciences at the University of Coimbra after the Studies reforms, driven by the Marquis of Pombal in 1772. It is now one of the major references in what relates to the History of Science in Portugal.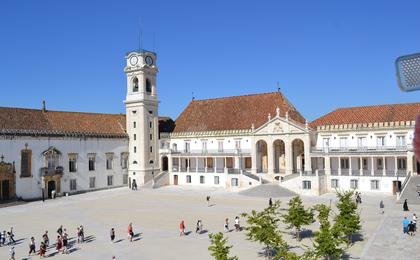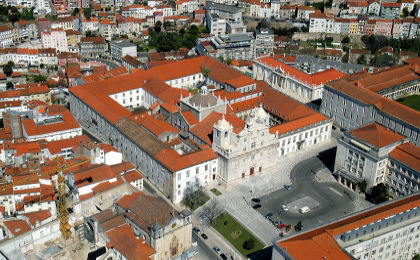 How to get to Coimbra 
PLANE
To travel to Coimbra you should fly either to Lisboa or to Porto and then take a train or a bus. The International Airports of Lisbon and Porto have regular scheduled flights to and from all main European destinations as well as major world cities.
TRAINS AND BUSES
From Lisbon
You can get to Coimbra by train from the main stations of "Lisboa-Santa Apolónia" and "Lisboa-Oriente" (you can arrive there from the airport by bus, metro or taxi). The trip from Lisbon to "Coimbra-B" station takes under 2 hours if you take the "Alfa Pendular" or the "Intercidades" train.
From Oporto
The trains leave "Porto-Campanhã" station (you can get there from the airport by bus, taxi or metro - use the direct violet metro line from the Sá Carneiro Airport). The trip from Porto to "Coimbra-B" station takes under 1 hour if you take the "Alfa Pendular" or the "Intercidades" train.
You can check the timetables of Portuguese trains at http://www.cp.pt/.
You can also get to Coimbra by Bus.
Detailed information can be found at http://www.rede-expressos.pt.
BY CAR
Portugal has a good network of motorways/freeways. You can rent a car at the airport or at any train station as well as in all major cities.
By car, from the north (Porto)
Recommended exit from A1: Take exit 13 to merge onto E801/IP3 toward Viseu/Coimbra Norte. Follow IC2 toward Coimbra/Lisboa and take the exit toward Coimbra Centro/Coimbra Este.
By car, from the south (Lisbon)
Recommended exit from A1: Take exit 12 for N341 toward Coimbra Sul/Taveiro/Alfarelos. Follow IC2 to Coimbra heading to IP3/Porto/Coimbra Norte/Viseu.
Accommodation
Coimbra has many hotels located at a walking distance, or public transports, of the Conference site. 
We strongly recommend early booking to ensure availability, since hotel bookings will be handled on a "first come – first served" basis.
Hotel Vila Galé Coimbra
https://www.vilagale.com/pt
Hotel Tivoli Coimbra
https://www.tivolihotels.com/en/tivoli-coimbra
Hotel Tryp Coimbra
https://www.trypcoimbra.com/pt-pt
Hotel  D. Luis
http://www.hoteldluis.pt/hotel-em-coimbra-overviewhtml
Hotel Almedina
http://www.almedinacoimbra.com/